$6 Million Solar Project At Tampa International Airport
In June of 2016 Estimateguard was hired by prime contractor Solar Source of Largo, Florida to provide construction management and safety supervision of a $6 million dollar 2MW solar project atop the Economy Parking Garage at the Tampa International Airport for their client, Tampa Electric Company. Although the client provided a master scheduler using Microsoft Project to manage the schedule on the project, Estimateguard also ran a parallel schedule in our software, Construction Profit Ability. Tampa Electric Company was adamant that the project had to be completed by December 31st of 2016 and the project included liquidated damages for not meeting that goal.
The project was designed to mirror the construction of the other floors of the structure and consisted of 124 concrete columns supporting 6,815' of cast in place concrete beams which were spanned by 1,404 galvanized steel beams that supported 6,175, 325 watt solar modules. 1,409 yards of concrete was pumped up six stories, primarily at night, to cast the concrete columns and beams. Peak construction saw over 70 workers on site daily from a combination of seven subcontractors and direct hire solar electricians. There were zero lost time accidents on this project.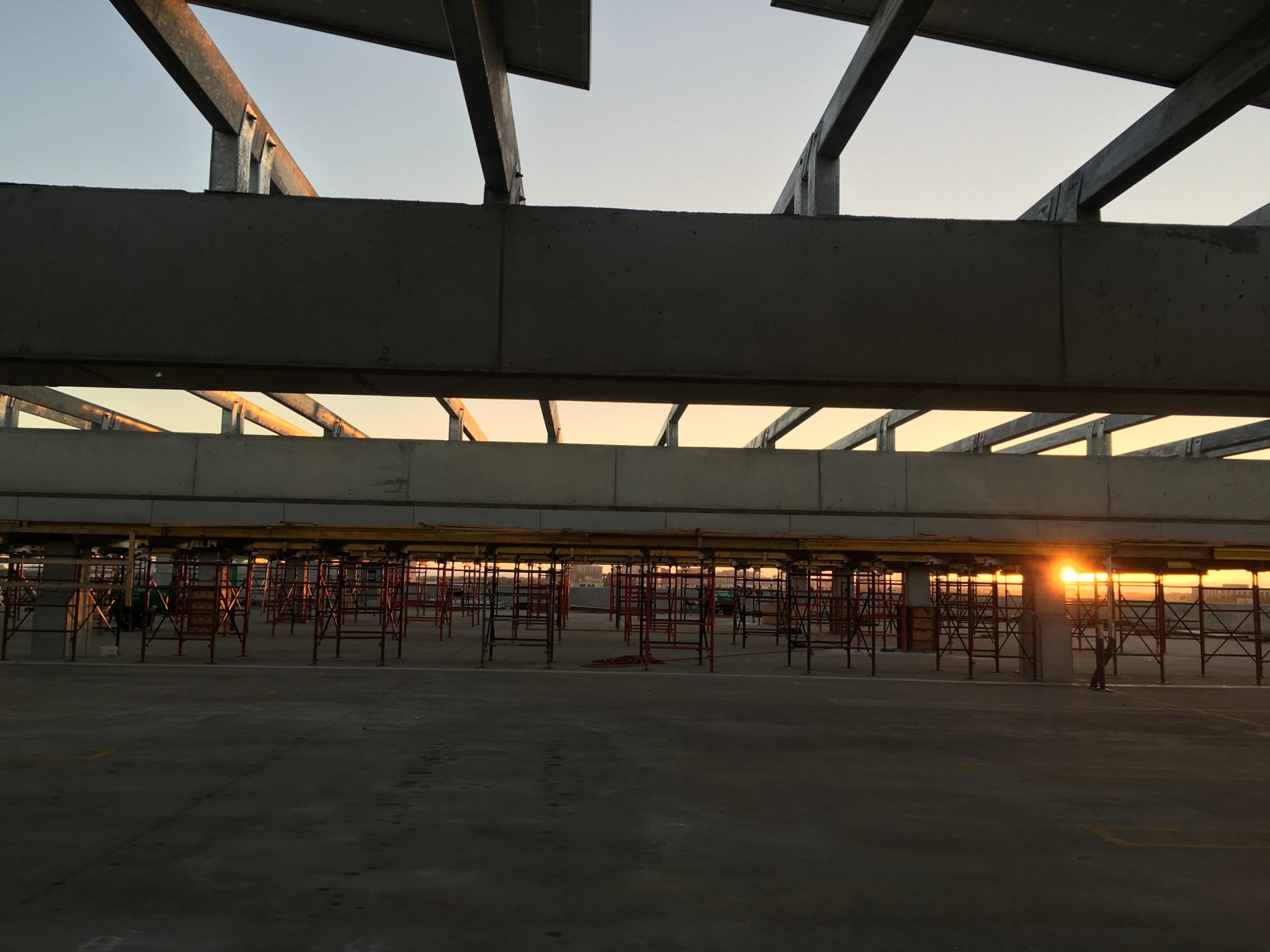 The project experienced significant delays due to issues that were eventually resolved, but not until the delays seriously compressed the electrical portion of the schedule. Because the Construction Profit Ability system uses actual estimate data to create the schedule, we were able to model multiple highly accurate scenarios until we found the right combination of direct hire electricians and subcontractors working in unison to meet the completion goals. Solar Source alone did not have the manpower to meet the demands of the compressed schedule. Estimateguard was able to negotiate subcontracts on the pulling of the DC feeders and the LED under canopy lighting to two separate local contractors while maintaining the electrical budget.
In early November the Tampa Electric schedule was projecting a completion date of late January and the situation was tense. During a meeting of high level TECO managers, Estimateguard was asked when they thought the project would complete and we replied that we would receive final electrical inspections on the 18th of December and would start the machine up on December 21st. Eyebrows were raised and confidence in our projection was low, but the client was encouraged. On December 18th we received our final electrical inspection. After a two day delay due to an inverter technician that was stranded outside the country, the system was started on December 23rd. Substantial completion was obtained on December 26th. Although the final structural threshold inspection was approved prior to the final electrical, lagging issues pertaining to engineering and threshold inspections held up the final structural inspection certifications from being entered into the county system until December 31st at 7 pm.
One of the major benefits of the Construction Profit Ability system is the acute level of accuracy when forecasting completion dates of the entire project, individual portions of it and manpower loading. The reason for this is that parsed estimate data is imported into the system and used to determine task duration's. Using estimate data to determine task duaration's eliminates human error. Accuracy is further enhanced when this level of accurate data is used to assign individual employee and crew tasks. When employees know what to do (task) and realistically how long it should take to do it (Duration), they strive to meet those deadlines and have a predictable chance of succeeding. If no estimate data is available, the system will track actual production by task to collect accurate duration data by task and then use that data to forecast completion dates and manpower loading. The more data collected the more accurate the predictions become.
The challenges on this project were extensive.Because of our ability to schedule with deadly accuracy and track actual progress, we were consistently able to make accurate predictions. By completing a complex project on time in spite of huge challenges, we were able to win the confidence of the TECO team. TECO specifically requested our presence on the next project that they awarded to Solar Source and permitted us to manage the entire schedule from start to finish with our Construction Profit Ability software.
"We have now used the Estimateguard software on our last two major projects with great success. Aside from the estimating functions the name implies, it's really a back-end project management control system that makes tracking and managing labor as easy as you could hope for. We see what each technician is doing every day, every hour. At any given moment, you can see where you are on a project, where you're ahead, and where you need to make up time and cost. The program has been so successful in the field for us that even our major utility clients are allowing us to use Estimateguard over their typically preferred traditionally known scheduling and project management software programs. Plus, the main person who created this is an actual highly experienced Project Manager, so the support has been phenomenal. I highly recommend Estimateguard without reservation!"
Rick Gilbert
Executive VP
Solar Source
Try It FREE!